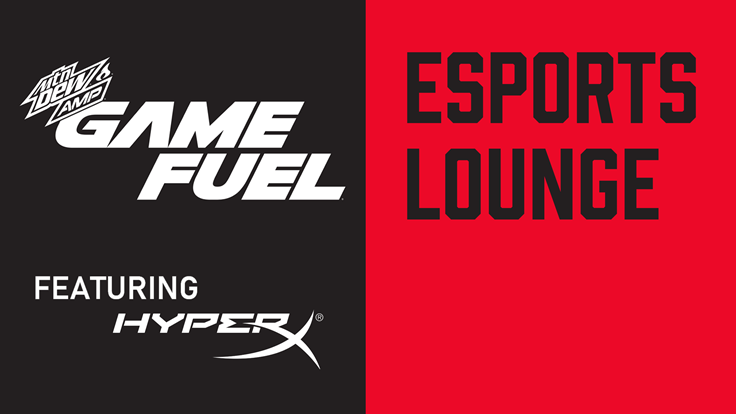 The Mtn Dew AMP Game Fuel eSports Lounge is offering FREE PC and Xbox gameplay for gaming enthusiasts of all ages.  While there, you can sample Mtn Dew AMP Game Fuel, try out the latest HyperX peripheral gaming gear, snap a selfie in the HyperX RGB chair, get some cool gaming swag, meet eSports professionals and more! 
Mtn Dew AMP Game Fuel is one of the first beverages made for gamers. Charged with Vitamins A&B, it's energy-boosted formula improves and sustains accuracy and alertness.  It's no-slip grip and innovative resealable lid is the upgrade gamers need to propel their play. 
The Mtn Dew AMP Game Fuel will ignite your gameplay.
HyperX is the Official Periphery Partner of the Mtn Dew AMP Game Fuel eSports Lounge.  HyperX products are made to enhance your gaming life; our ultra-comfortable Cloud headsets, the durable and responsive Alloy keyboards and Pulsefire mice, ChargePlay products to keep gear charged, and our high-performance SSDs and RAM. Learn more about how HyperX can help level up your game
Wombo Sports is a gaming team that allows fans to watch, engage with, and play video games with or against professional athletes and celebrities. We connect enthusiasts to the pros when they play. Wombo Sports will be bringing in your favorite athletes that are also serious gamers. Come meet and watch them play. 
The Mtn Dew AMP Game Fuel eSports Lounge is supported by the following:
Best Buy, Samsung QLED TV, IKEA, Respawn, HP, & Gravity Gaming.
Hey Vikings fans! On Saturday, April 20 from 2 - 4 p.m., get a chance to play Madden 19 and have Paul Allen announce the game while you're sitting right next to him. In addition to this being a live experience for fans to meet PA and watch in-person, this experience will be live streamed from Twitch.tv/WomboSports. Free sign up will be done inside the lounge starting on Saturday morning. 
Schedule and appearances are subject to change at any given time at the discretion of Mall of America management for the safety and well being of our guests and tenants.