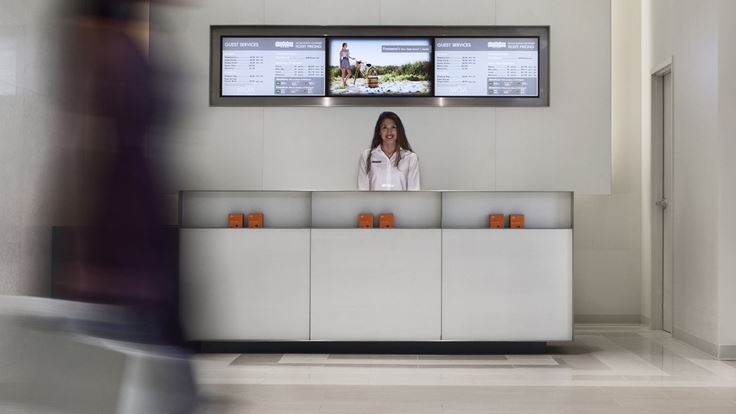 Die Mall von America bietet zahlreiche Dienstleistungen, die Ihre Reise noch unterhaltsamer gestalten. Unten erfahren Sie mehr darüber, wie Sie diese Dienstleistungen in Anspruch nehmen können.
Kinderwagen
An unseren Gästeservice-Standorten stehen Besuchern Einzel- sowie Doppel-Kinderwägen zur Verfügung.
Einzel-Kinderwagen $7
Doppel-Kinderwagen $8
Schließfächer
Auf den Ebenen 1, 2 und 3 auf der Ost- und Westseite können Gäste Schließfächer mieten. Weitere Schließfächer gibt es auf Ebene 1, auf der Nord- und Südseite, sowie am Nordeingang des Parks unter dem Riesenrad. Die Schließfächer können immer nur für einen ganzen Tag gemietet werden und stehen in verschiedenen Größen zur Verfügung. Auf Ebene 1 im Süden und unter dem Reisenrad stehen für Gepäckstücke und größere Gegenstände Jumbo-Schließfächer zur Verfügung.
Normal $6
Groß $8
Extra-Groß $11
Jumbo $13
Rollstühle
Allen Gästen stehen Rollstühle und elektronische Einkaufswagen zur Verfügung.
Elektronische Einkaufswagen 30 $ pro Tag (kein Pfand erforderlich)
Rollstühle 6 $ pro Tag
Einkaufswagen 5 $ pro Tag
Alle Toiletten sind behindertengerecht ausgestattet, außerdem befinden sich an jedem Eingang im ersten Stock Familientoiletten.

Die Kinos der Mall of America bieten Filme mit Untertiteln sowie entsprechende Hörgeräte für unsere Hör- oder Sehbehinderten Gäste.
Geschenkkarten
Die Mall of America umfasst vier Gästeservicestationen, die sich jeweils an den Eingängen in der ersten Ebene befinden. Die Gästeservicestationen haben während den Öffnungszeiten der Mall geöffnet und die Belegschaft steht Ihnen für alle Ihre Fragen zur Verfügung. Außerdem helfen Ihnen unsere Mitarbeiter gerne bei allen anderen Dienstleistungen, die in der Mall angeboten werden.

• Sie können die Geschenkkarten an den Gästeservicestationen am östlichen, westlichen, nördlichen und südlichen Eingang erwerben.
• Die Gästeservicestationen verkaufen nicht mehr als 10 Geschenkkarten bei einem Besuch und auch der Gesamtwert des Einkaufs darf 1.000$ nicht überrschreiten.
• Akzeptiert werden Visa®, MasterCard®, American Express®, Discover® Network und Bargeld. Es werden keine Barschecks angenommen.
• Pro Karte wird eine Aktivierungsgebühr von 2 $ erhoben.
Sicherheit
In der Mall of America® hat Sicherheit oberste Priorität. Sie erreichen den Sicherheitsdienst der Mall unter der Nummer (952) 883-8888. Auch die Erste-Hilfe-Telefone und Fernsprechautomaten im ganzen Einkaufszentrum haben direkten Kontakt zum Sicherheitsdienst der Mall. Bei Fragen, Problemen oder anderen Anliegen stehen wir Ihnen bei Ihrem Aufenthalt in der Mall gerne persönlich zur Verfügung.

In der Mall of America® heißen wir gerne alle jungen Menschen willkommen, doch an Freitag und Samstag müssen Jugendliche unter 16 Jahren von 16 Uhr am Nachmittag bis Ladenschluss von einem Erwachsenen über 21 Jahren begleitet werden. Am Sonntagabend müssen Jugendliche unter 16 Jahren von 14:30 Uhr am Nachmittag bis Ladenschluss von einem Erwachsenen über 21 Jahren begleitet werden.