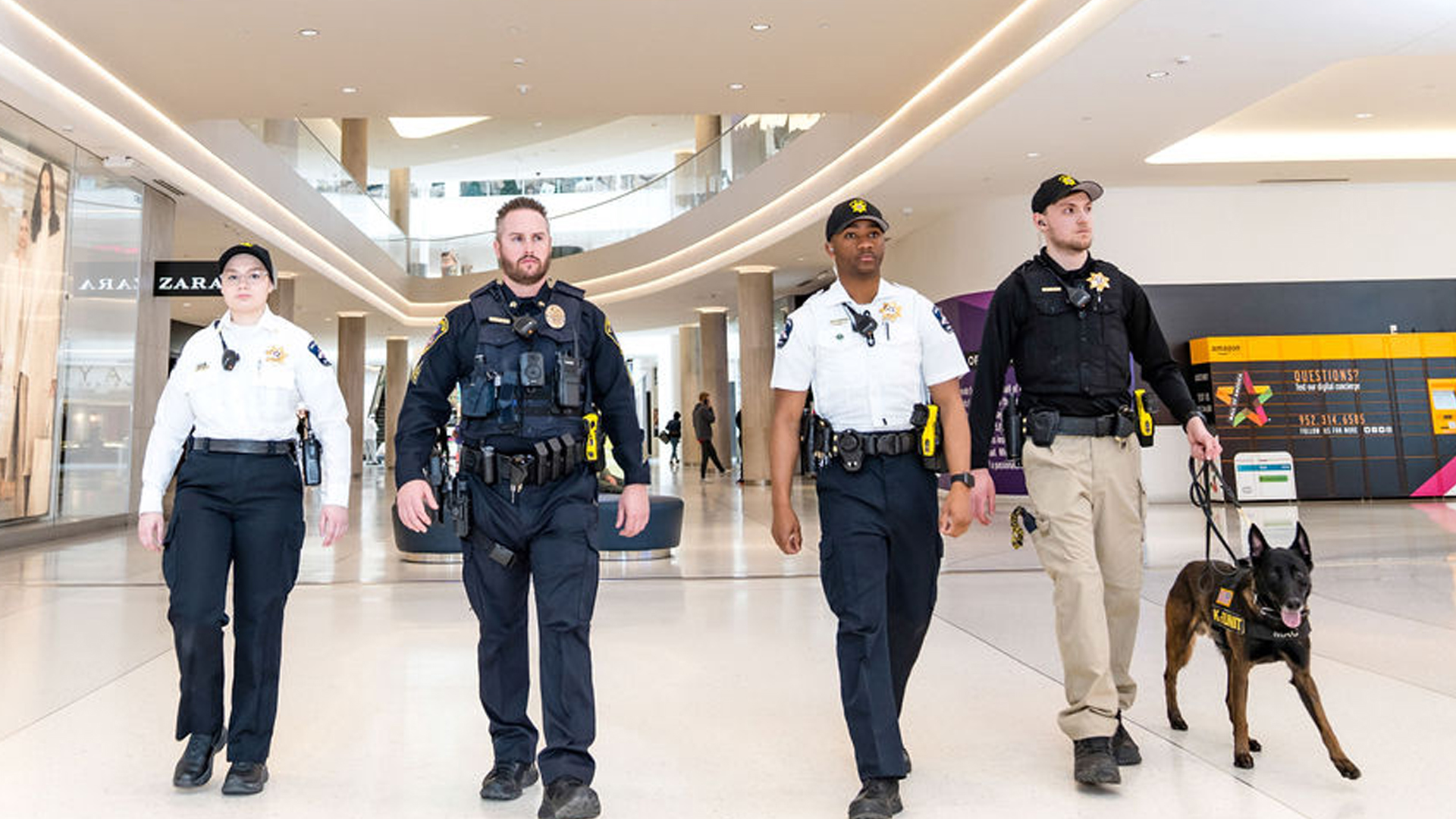 Mall of America® Security
At Mall of America ("MOA®"), we understand the importance of safety and security to you and your family. Protecting each person who walks through our doors while providing a fun and memorable experience is the heart of what we do.
We take pride in our industry-leading team of dedicated, highly trained security professionals. More than a third of our security team members are veterans or are currently serving in the U.S. military. Many aspire to a career in law enforcement – others plan to make their career at Mall of America.
With more than 32 million people visiting Mall of America each year, there are many layers of security in place to provide a safe environment. It all starts with the most extensive training in the industry with classes, coaching, education, and workshops for new officers. Tenants and team members also receive ongoing emergency training. Mall of America security has multiple specialized units, along with a variety of unique resources and programs that have proven to be effective. It is our priority to continue evolving our security strategies to ensure a safe and enjoyable visit.
Security Employment
Mall of America is proud to have a nationally recognized security department that fosters personal and professional growth. If you wish to play a vital role in the private security field, apply to join our industry-leading team by visiting mallofamerica.com/employment. Call 952.883.8560 or email employment@mallofamerica.com with any questions or concerns.
Contact 
Mall Security can be reached at 952.883.8888. 
Help phones throughout MOA also have direct contact to Mall of America Security. Do not hesitate to contact us with any concerns, questions, or issues you may have while visiting.
If you see something, say something!
Code of Conduct
Mall of America has always been a place for fun. We expect everyone in our building to treat others with respect, follow all rules and policies, and do their part to keep everyone else safe.
Conduct that is disorderly, disruptive or which interferes with or endangers businesses or guests is prohibited. Such conduct may include but is not limited to:
Smoking and vaping;
Consumption of alcohol in the Common Areas;
Running, loud offensive language, spitting, throwing objects, fighting, obscene gestures, gang signs, skating, skateboarding, or bicycling;
Intimidating behavior by groups or individuals;
Loitering, engaging in soliciting, blocking storefronts, hallways, skyways, fire exits or escalators, or walking in groups in such a way as to inconvenience others;
Picketing, demonstrating, soliciting, protesting, or petitioning;
Unauthorized chanting or singing;
Distributing handbills or other materials. requires the prior written consent of Mall of America management;
For the security of our guests, please do not leave purses, bags, or other items unattended and please note that while at Mall of America, you may be subject to a security interview; and
Failure to comply with a lawful and reasonable request by MOA Management or Security.
Guns are banned on these premises.
The commission of any act defined by Federal, State, or local ordinances as a criminal act is prohibited. These acts include, but are not limited to:
Physical harm or intimidation of others.
Use and possession of illegal drugs.
Theft, shoplifting, or unauthorized use of property.
Graffiti, property damage, defacing, damaging, or destroying any real or personal property.
Using or possessing fireworks.
Appropriate attire, including shirts and shoes, must be worn at all times. Inappropriate attire may include, but is not limited to:
Apparel that has obscene or offensive language, gestures or graphics, or racial/religious/ethnic slurs that are likely to cause a disturbance.
Wearing clothing that deliberately obscures the face, such as hoods, hooded tops, balaclavas, or costume masks. Face coverings worn for religious or health purposes are permitted.
Bulletproof vests or simulated bulletproof vests.