Mall of America® is located in Bloomington, MN, only a few short miles from the Minneapolis/St. Paul International Airport (MSP). MSP is a major hub airport serving points throughout North America, Europe, Asia, Latin America and more.
As you plan your visit, know that more than 50 hotels offer free shuttle service to and from the airport and the Mall. The light rail also runs directly from the airport to Mall of America and downtown Minneapolis.
Ground Transportation
Hotel shuttles, taxis, and tour buses drop off and pick up passengers at the new North Entrance with convenient access from American Boulevard. This is located in the Mall parking lot that is east of IKEA and north of Lindau Lane. Signage is placed in these areas to guide guests to their vehicles. The daily shuttles to/from Mystic Lake Casino Hotel departs from the Transit Center.

Uber
Mall of America is teaming up with Lyft to make getting to and from the Mall of America easier than ever with curbside service. Whether it's a shopping spree, a visit to Nickelodeon Universe, or late night fun with friends, Lyft has your transportation needs covered.
Download or open the Lyft app for iOS or Android.
Input your destination in the "Where are you going?" bar.
Select the ride type (Lyft, Lyft XL, Lux, Lux Black, Lux Black XL, etc.).
Confirm your pickup or drop-off location at the Mall of America by selecting one of the designated pickup locations within the app.
Once you've matched with a driver, you'll see their name, driver rating, photo and license plate number at the bottom of your screen.
The Lyft app will notify you with an estimated time of arrival. Feel free to wait inside or at the designated pickup spot. Please just be ready to meet your driver once they arrive.
When your driver has arrived, confirm it's the correct vehicle by making sure the license plate on the vehicle matches the license plate number in the app.
Hop in, relax, and enjoy the ride!
Pickup And Drop-Off Locations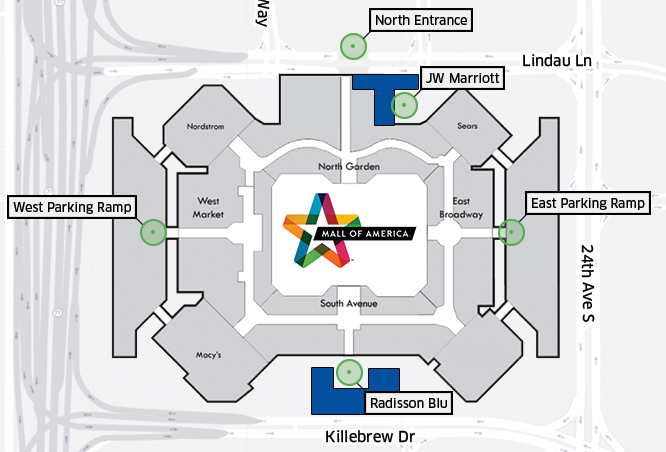 There are five dedicated pick-up and drop-off zones for Lyft users at Mall of America. 
Level 1, East Ramp
Level 1, West Ramp 
North entrance
Radisson Blu
JW Marriott
Valet
Valet
Step 1:
Leave your car at one of these drop-off locations at Mall of America®:
Pickup/Dropoff Location
Hours of Operation
North MOA® Entrance Off Lindau Lane
(main entrance or underground ramp)

Sun - Fri: 11 a.m. - 7 p.m.
Sat: 10 a.m. - 8 p.m.

Radisson Blu
24/7
Valet Prices start at $15.
Did you know that you can also get your car washed, your oil changed and many other services for your car while you shop? Check out Split Rock Car Detailing's full list of car services. 
Step 2:
Connect with valet through your mobile device (using their paperless service). 
Step 3:
Your car will be brought to the valet location that's closest to you.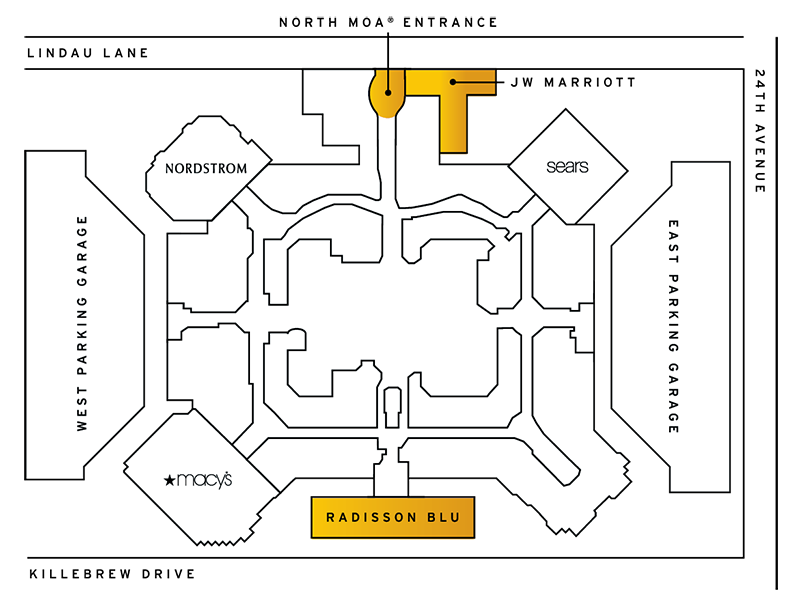 If you have any questions, or if you need to contact Split Rock Parking LLC (which operates Mall of America's valet service), please call 952.883.8476.
Mystic Lake Shuttle
Mystic Lake's complimentary shuttle services makes eight trips from Mall of America every day. Buses to the casino depart from the Mall of America Transit Station located on the lower level of the East Parking Ramp. In order to ride, you must be at least 18 years of age, and can provide either a Mystic Club Card, valid driver's license, or state ID. For more information, call 1.888.8.FREERIDE.
RV Parking And Hook Up
For RV parking and hook-up details, please visit our security page.
Oversized Vehicles
Vehicles with trailers, RV's, semi-trucks, box trucks and any other oversized vehicle must park in the Lindau Lot, north of Mall of America off of Lindau Lane. There is no overnight parking at Mall of America. Contact security at 952.883.8888 or visit the security page for more information.